This feature allows you to edit the file naming structure of the tracks you download from Beatport. You can navigate to this feature from the Downloads section of My Library (seen below) or via Download Preferences in Account Settings.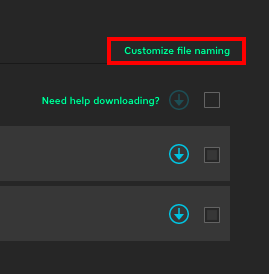 Once you navigate to this feature you will see that you have the option to replace the whitespace with a hyphen, underscore, or period. You are also given the option to change the file naming structure by clicking the dropdown menu to the right of the text field (highlighted below).

The dropdown menu allows you to select presets for the file naming structure or the option to create your own by using the keywords provided.