If you find yourself experiencing difficulties when first starting to use the new 'Download Selected' feature, you may need configure your browser settings to allow for automatic downloads.

In Google Chrome, clicking the 'lock' icon on the left side of the url bar will open a dropdown menu. Make sure you are on the Downloads page when you do this. You may see settings for automatic downloads in this dropdown, in which case you want to select 'Allow':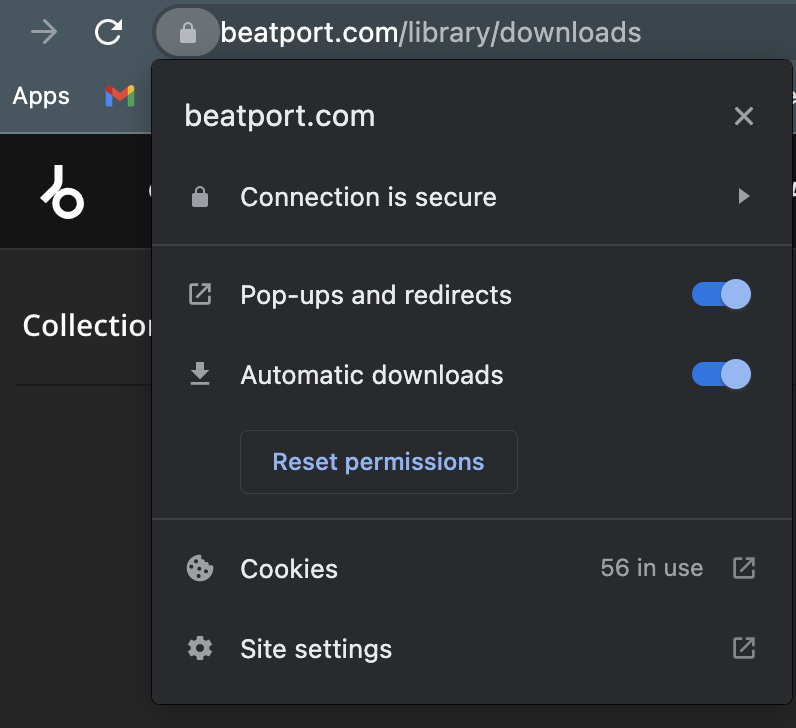 If you do not see 'Automatic Downloads' as an option, you will want to click 'Site settings', which will take you to a window where you can enable the setting by selecting 'Allow'.


If you had 'Automatic Downloads' disabled previously, you might see an indication on the right side of your url bar that the download was blocked. If you click this icon, you will be presented an option to enable the feature: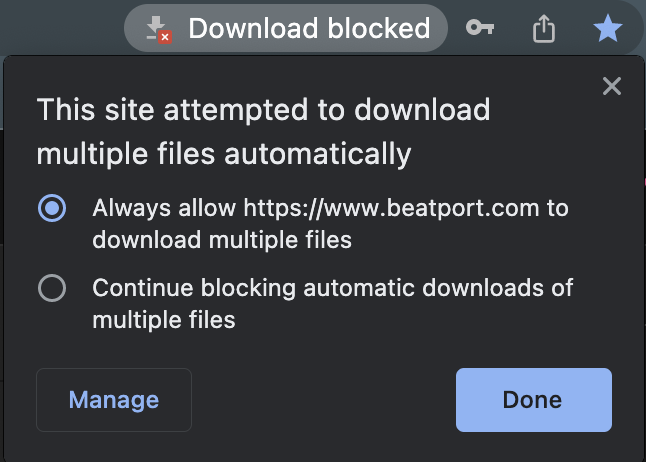 If you want to check the settings you have edited for all sites regarding the 'Automatic Downloads' feature, in chrome you want to navigate to chrome://settings/content/automaticDownloads
This will show you a page like the following, where you can manually enable/disable the feature for any site you choose. Please add www.beatport.com to the list of 'Allowed' sites: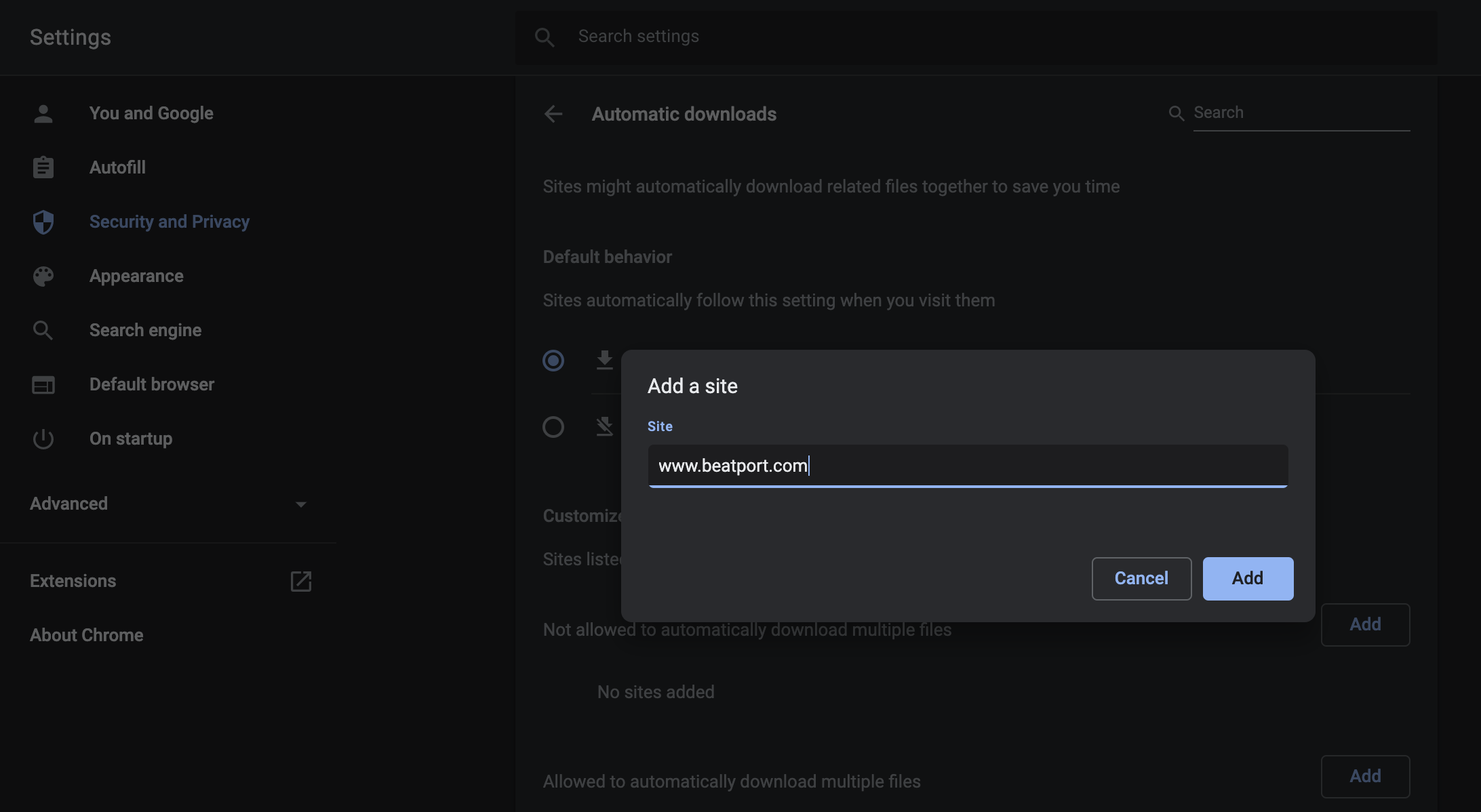 If you are still being asked where to save each file for every download, you may need to disable this feature from your downloads settings.

Navigate to Chrome's 'Downloads' section in Settings (chrome://settings/downloads) then disable "Ask where to save each file before downloading".




The experience will differ from browser to browser, but most will initially prompt you in the top left corner to enable downloads when you first try to use the feature.

To access your Download settings in other browsers you can do the following:


Firefox:

Navigate to about:preferences#general
Scroll down to Files and Applications: Downloads and set an automatic folder for your downloads to go to:





Safari:

While you are navigated to beatport.com, in your browser top menu, go to Safari > Preferences. In the window that opens, at the top select 'Websites' and select 'Downloads' from the side menu. Select 'Allow' from the dropdown menu next to beatport.com: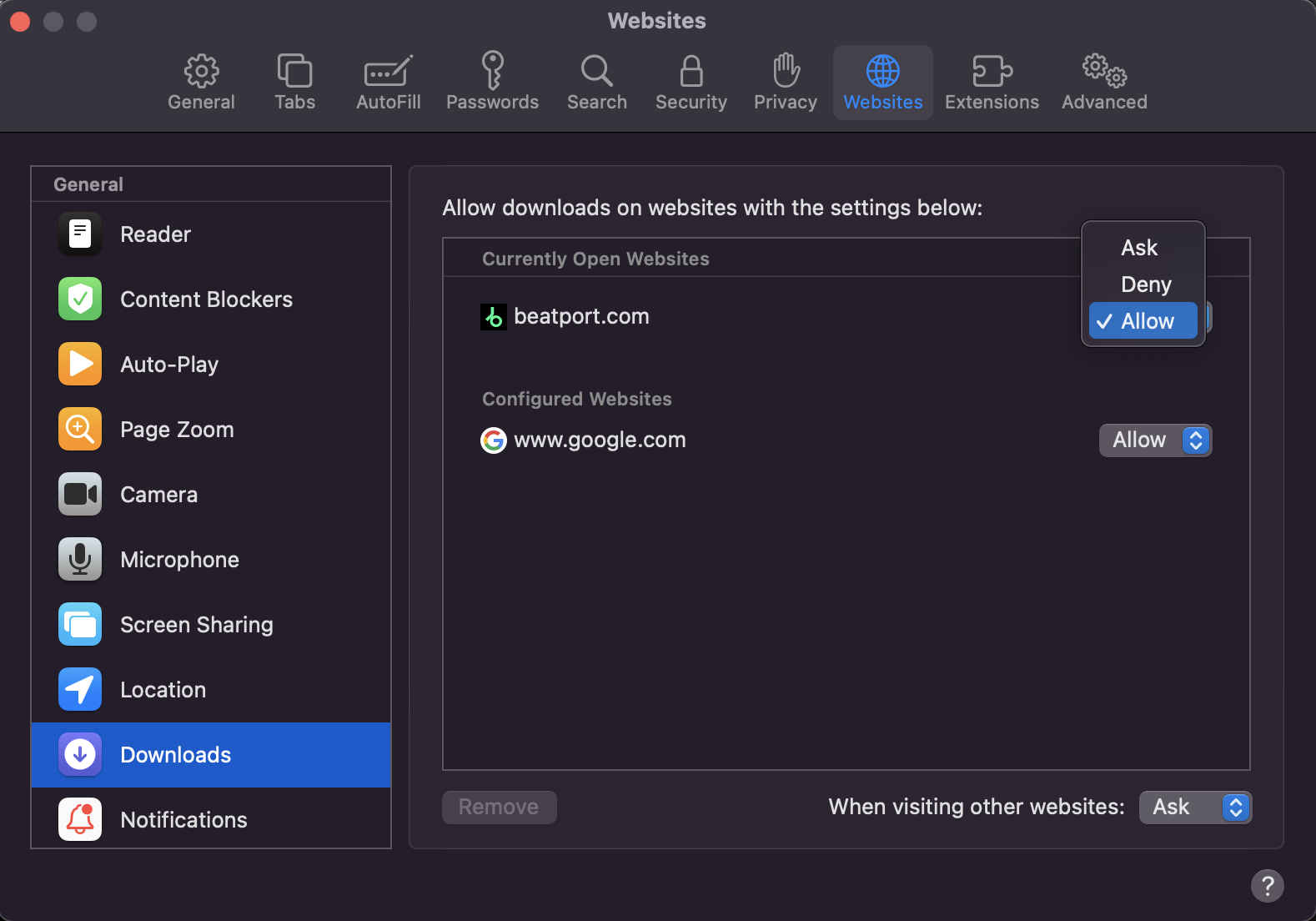 Edge:

Chromium Edge will be the same as Google Chrome with the exception that the url is edge://settings/content/automaticDownloads


Internet Explorer:

Please Note: This feature is not supported in Internet Explorer.